The Shining and The Eerie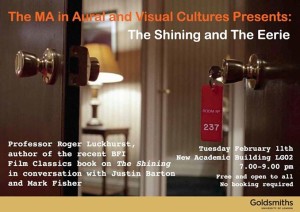 The Shining got under my skin when I read it at the age of fourteen: the corridors that extend in time as well as space; the catatonic drop-outs; telepathy; schizophrenia; the Poe and Carroll intertexts; the pulp modernist experiments with layout … Later, I would see a quasi-schizoanalytic critique of patriarchy and patriarchal time (the family photograph in its most terrifying form): the grim hauntology of the family (your fate is already decided, it just takes a little while for the photograph to develop) … (In the film, Danny escaping by walking backwards in his father's footsteps …)
Justin Barton and I have been discussing The Shining since we first met, and it has been in the background of all of our collaborative work. In On Vanishing Land, we tried to get to a sense of the eerie that went beyond the patriarchal gloom of the Gothic; but no text gets at the malign sense of the eerie than The Shining. I say 'malign', but much of the sophistication of The Shining is its refusal to identify the forces that control the Overlook – and maybe also American, if not terrestrial history itself (who can say where the Overlook begins and ends?) – as 'evil'. The eerie charge of The Shining comes in large part from the fact that we never see the entities that run the hotel. Certainly, these beings feed off human energy/desire/trauma – but, to paraphrase Burroughs (and The Shining is the most Burroughsian of horror texts) who are we to judge?
Incredibly, Justin read the novel while living in a hotel in Yorkshire in the 70s – one of many intense experiences recounted in his forthcoming book, Hidden Valleys – which, amongst many other things, is one of the most powerful responses to A Thousand Plateaus I've ever seen.
In any case, Justin and I will be discussing some of these issues this coming Tuesday (Feb 11th) with Roger Luckhurst, whose excellent book on Kubrick's film came out last year.
The event is free and open to all, and will take place between 7-9 pm in LG02 in the New Academic Building at Goldsmiths, which is located at the rear of the College. Hope to see you there …